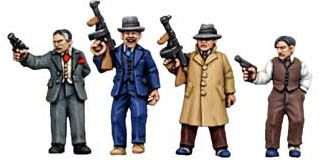 Not painted by me
Nope, not it's not another Korean pop parody but the latest batch of miniatures I've been given by Mubaris to paint for his Pulp game.
These beauties come from Copplestone Castings and although the range isn't as outlandish as Bob Murch's Pulp Miniatures they do benefit from being much more realistic. One of the added benefits is that they come with slotta bases so are easier to pin to resin bases. Which is a good thing as the bases that came with them are really small.
Not painted by me
Hopefully I'll be able to get these primed over the next couple of days and get them painted.
This is also the first post I've put up with the Blogger App from my mobile so my apologies if it's a bit odd looking.